The Help menu in the Menu Bar has three options

View Online
Opens the Flow Help Center website in a new browser window.
Follow us on Twitter
Opens a Twitter webpage from which the user may choose to add Flow Software's Twitter feed to their profile.
License
The License viewer provides information about the Flow Information Platform's license, measure and event usage, as well as the ability to update a license.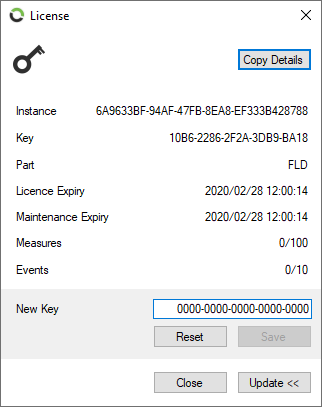 | | |
| --- | --- |
| | |
| | Unique identifier for the Flow Information System |
| | License key that unlocks feature availability to the system |
| | License part that characterizes the feature availability |
| | Perpetual licenses never expire. Subscription and Demo licenses expire. |
| | Perpetual licenses' maintenance expires annually. |
| | Usage / Licensed |
| | Usage / Licensed |
| | |
When purchasing a license, Flow Software will need to generate a key for your unique system. An easy way to send us the details of your system is to click the "Copy Details" button, and then paste into an email to "support@flow-software.com". Upon receiving your key from Flow Software, paste it into the "New Key" field and click "Save".
Latest Version Notification
When a newer version of Flow is released, an interim message will appear in the Help menu. This message will state latest available version. If you see the message "You are running a beta version", and you are not a Flow developer, nor have you specifically arranged for a beta release, please contact support@flow-software.com immediately 😄