Important KPI's and measurements that need to be monitored frequently might be added to more than one dashboard. Think of a typical production facility with multiple lines and where each line has its own dashboard with it's unique information. But, there is a central screen in the packaging hall that is used to display information for all the lines. Ideally, you would like the dashboards for each line to be shown periodically in a loop.
Flow has the capability to create a "Dashboard Loop". Multiple Dashboards can be added to one Dashboard Loop, and the Flow Server will be periodically cycle through each Dashboard in the loop, starting from the beginning when it reaches the last Dashboard, creating a "kiosk" type scenario.
A new Dashboard Loop can be created by right-clicking in the Information Model on any of the created Folders, then selecting "New", and then "Dashboard Loop":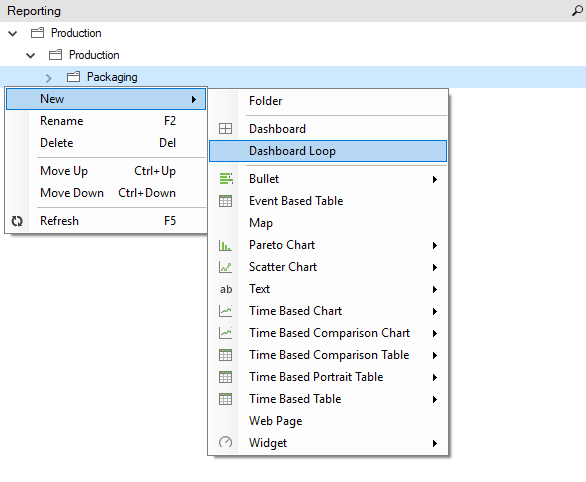 Flow will create a new Dashboard Loop. You can add previously created dashboards to the Dashboard Loop by simply dragging each dashboard onto the Dashboard Loop item: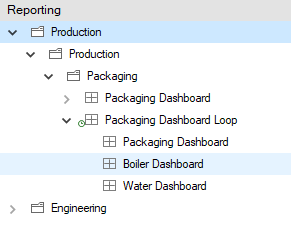 Opening the Dashboard Loop
To Open the Dashboard Loop, right-click on the relevant dashboard loop and select "Tasks", then "Open"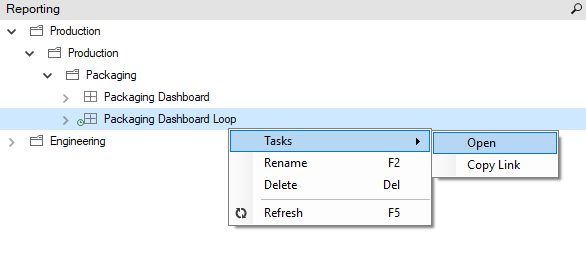 Alternatively, one can select "Copy Link", which will copy the relevant URL to your clipboard to be pasted in your supported browser's address bar to open the Dashboard Loop.