Shift "types" can be defined under the "Shifts" toolbox item. By default, a new Flow system will have the "Morning", "Afternoon" and "Night" shift types configured.
Note: Shift "types" are not to be confused with "Shift Patterns". A Shift Type is merely a name that you can assign to a Shift. The actual start and end times of a shift are configured in the Shift Pattern configuration.
You can add more shift types by right-clicking on Shifts > New > Shift Pattern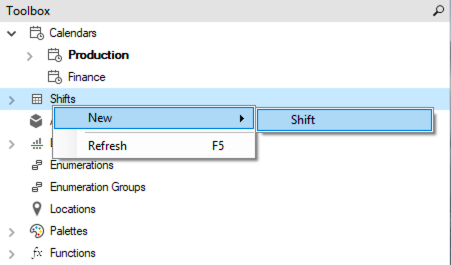 Select a name for your new shift type. You can add as many shift types as you require.
You can also delete shift types by right-clicking on the shift type and selecting Delete.
You cannot delete a shift type if it is in use in a shift pattern. Flow will warn and prevent you from doing so.