After installing Flow, you will find a shortcut to the Flow Config tool on your desktop. Run the Flow Config tool.
When running Flow Config for the first time, you will be presented with the "Connect" dialog box. Use this to create a new Flow System.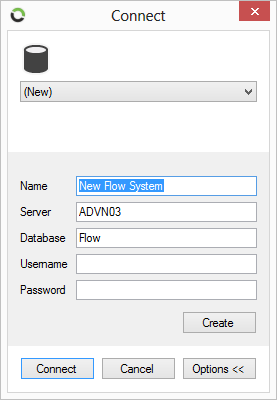 Follow these steps to create a new Flow System:
Name – This is a friendly name that you can use to describe your Flow System. Name this new Flow System "The Juice Factory"
Server – This is the name (or IP address) of the Microsoft SQL Server where your new Flow System will be created. If your SQL Server has a "named instance", then use the full instance name. By default, this is set to the name of the computer you are currently using.
Database – This is the name of the SQL Database where the data for your new Flow System will be stored and organized. By default, the database will be named "Flow". If you already have a database named "Flow" on this SQL Server, you will need to give your new one a different name.
Username and Password – If you need to use SQL Authentication to create and access the SQL Server, then specify the SQL login name and password, otherwise leave these fields blank to use Integrated Security (i.e. your Windows logged on user account)
Click "Create". Flow will deploy a new database to the Microsoft SQL Server and set it up for first-time use. Once this has been completed, Flow will open your new system.