Before you can start retrieving data into your Flow model, you will need to connect your Flow System to one or more data sources.
Select the "Data Sources" tab at the bottom of the Information Model on the right hand side …
The "Data Sources" panel is split into two sections.
Data Sources
At the top, the Flow System's available Data Source types are listed. By default, a new Flow System will have the following Data Source types available:
Microsoft SQL
OPC HDA
Wonderware Historian (external toolkit installation required)
Simulator
The Simulator is used for demonstration and training purposes.
Namespace
Once a Data Source connection has been added to the Flow System, selecting it will populate its tag "Namespace". This simplifies finding an individual item in a Historian.
For this lab, let's create a connection to the Simulator Data Source. Right-click on the Simulator Data Source type and click "New". Give the new Simulator connection the name "Historian", and click "Save"
Select the new "Historian" connection in the Data Source view. Notice how the Namespace displays the folders and tags available in the "Historian". Think of the Namespace as a "window" directly into the configuration of the "Historian". If the Historian supports engineering units, they will be displayed as part of the tag item. If the Historian supports tag descriptions, they will be displayed as tooltips when you hover over the items.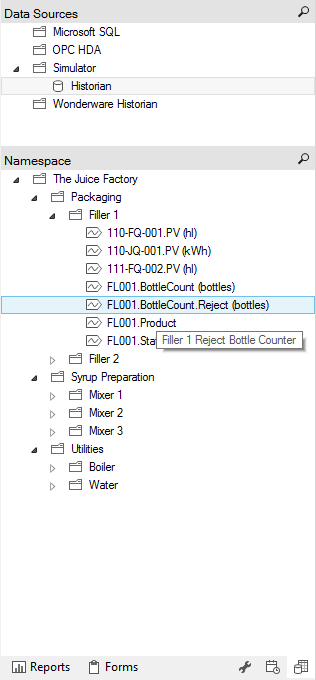 Flow supports multiple connections. This means you can connect many Data Sources to your Flow System. You may have a number of SQL Databases and Historians all connected to your Flow System.