For this lab, we are going to install Flow as a "stand-alone" system on a single machine. Please make sure you have already installed Microsoft SQL Server, preferably as the "default instance".
To get started with Flow, everything you need is contained in a single Windows Installer file (.msi). The name of the installer file is "Flow Installation Package 3.0.x.x.msi", where the 3.0.x.x is the build number. The build number relates to a specific release, which can be confirmed in the Release Notes here.
Installation
Run the Flow Installation Package: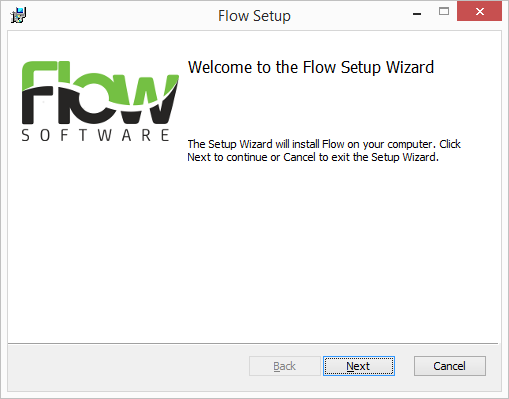 Click "Next" …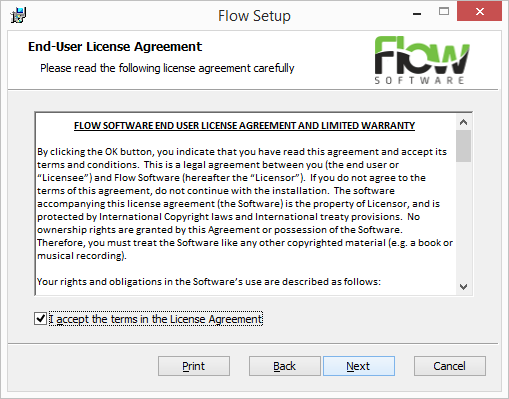 Accept the terms of the License Agreement and click "Next" …
By default, all components will be selected for installation. Click "Next" …
Click "Install" to begin the installation.
Distributed Installation
In the "real world" you would install the separate components of Flow on different machines. For example:
The Bootstrap would be installed on servers where you want to deploy the Flow Platforms, Engines, Client Servers and Flow Report Servers.
The Config Tool would be installed on your developers' (or even business users') computers for configuring measures, events and reports.
The Client Tool would be installed on a data capturer's computer for manually entering or updating data.
Configuring Flow Bootstrap Service
This is an important step to remember when installing the Bootstrap component; the Bootstrap component is a Windows Service that can be found in the Services application.
By default, the Flow Bootstrap Service is installed to Startup Automatically. Confirm this setting by opening its Properties …
Select the "Log On" tab and change the "Log on as:" option to a specific Account that has access to the Microsoft SQL Database where the Flow Database will be deployed …
Click "OK" and restart the Flow Bootstrap Service when prompted.
Some Data Sources that Flow will collect data from may require a special Account to allow access. An example of this is Wonderware Historian. It is recommended that the Wonderware Network Account be used to run the Flow Bootstrap Service.